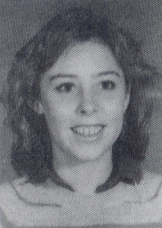 Are you this alumni? Please fill out this Alumni Form.
WHAT SONGS MAKE YOU THINK OF THE "GOOD OL' DAYS?"
Anything by Ozzy, Def Lepord, ACDC, etc.
WHAT ACTIVITIES WERE YOU INVOLVED IN (CLUBS, SPORTS, ETC.) IN HS?
In 9th grade I was in track. Then I thought I was too cool to be involved in any activities (dumb dumb dumb).
WHO WAS YOUR FAVORITE TEACHER AND WHAT WAS YOUR FAVORITE CLASS SUBJECT?
The teacher that made the biggest impact on me was Mrs. McDonald. The first year I had her I did not like her very much. But then the next year we just clicked and I always think of her as my favorite teacher who taught me the most.

My favorite class was print class.
WHAT ARE YOUR BEST MEMORIES OF HS?
That it ended!
WHAT WAS YOUR MOST EMBARRASSING MOMENT IN HS?
I pulled a pair of pants out of the laundry basket, put them on and went to school. I was walking down Purple Hall; of all places, when some boy yelled hey you lost something and it turned out to be a pair of my underwear that had been in the leg of my pants.
WHAT IS SOMETHING YOU WANTED TO DO IN HS BUT NEVER DID?
Take a language class and do a semester abroad.