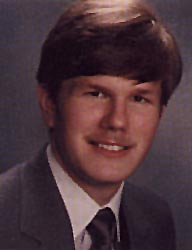 Are you this alumni? Please fill out this Alumni Form.
WHAT SONGS MAKE YOU THINK OF THE "GOOD OL' DAYS?"
While in ROTC, we had a drill competition in Hawaii. I remember the team walking up and down Waikiki Beach with the song "Fly Girl" blaring out of a boom box we were carrying.
WHAT ACTIVITIES WERE YOU INVOLVED IN (CLUBS, SPORTS, ETC.) IN HS?
I'm still into computers as a hobby. I golf a little, although I'm actually pretty bad at it.
WHO WAS YOUR FAVORITE TEACHER AND WHAT WAS YOUR FAVORITE CLASS SUBJECT?
I have a horrible memory for names. So I'll just say the most helpful subject was probably Calculus. It made starting college a little easier.
WHAT ARE YOUR BEST MEMORIES OF HS?
I had some fun in ROTC. Participating with the rifle drill team was fun.
WHAT WAS YOUR MOST EMBARRASSING MOMENT IN HS?
Getting a student award for Transportation. When I attended the ceremony I thought I was receiving an award for Calc.
WHAT IS SOMETHING YOU WANTED TO DO IN HS BUT NEVER DID?
Attend the prom. I was just shy to ask anyone out at the time.