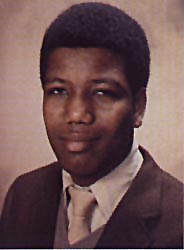 Are you this alumni? Please fill out this Alumni Form.
WHAT SONGS MAKE YOU THINK OF THE "GOOD OL' DAYS?"
What makes you think they were good ol days???
But if I had to choose, anything by Duran Duran or Culture Club.
WHAT ACTIVITIES WERE YOU INVOLVED IN (CLUBS, SPORTS, ETC.) IN HS?
Football, soccer, French club.
WHO WAS YOUR FAVORITE TEACHER AND WHAT WAS YOUR FAVORITE CLASS SUBJECT?
Mr. Mergler & Mrs. Goll, great English teachers who taught me how to think for myself.
Mrs. Richmond, cause she taught me the one skill form high school that I acutally still use and get paid for.
WHAT ARE YOUR BEST MEMORIES OF HS?
Senior year, when I finally did all the things that I had avoided doing the previous three, like skip class.
WHAT WAS YOUR MOST EMBARRASSING MOMENT IN HS?
Having a boot thrown at me by Mr. Hamilton for falling asleep in class!
WHAT IS SOMETHING YOU WANTED TO DO IN HS BUT NEVER DID?
Play basketball, probably due to a lack of playing ability, cause at 6'8" it's not the height.