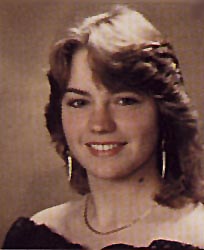 Are you this alumni? Please fill out this Alumni Form.
WHAT SONGS MAKE YOU THINK OF THE "GOOD OL' DAYS?"
Anything by the Scorpions, ACDC, Whitesnake.
WHAT ACTIVITIES WERE YOU INVOLVED IN (CLUBS, SPORTS, ETC.) IN HS?
Symphonic Band, plays.
WHO WAS YOUR FAVORITE TEACHER AND WHAT WAS YOUR FAVORITE CLASS SUBJECT?
Mrs Floyd. Math!
WHAT ARE YOUR BEST MEMORIES OF HS?
Ms. Goll's Humanities class and our trip to Challenge course. Also, when a certain classmate I had a crush on consoled me (reference most embarassing moment).
WHAT WAS YOUR MOST EMBARRASSING MOMENT IN HS?
Crying in Humanities class because I screwed up my guitar solo.
WHAT IS SOMETHING YOU WANTED TO DO IN HS BUT NEVER DID?
Have a social life and gotten involved in crosscountry running.