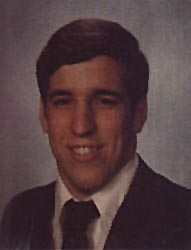 Are you this alumni? Please fill out this Alumni Form.
WHAT SONGS MAKE YOU THINK OF THE "GOOD OL' DAYS?"
Whiskey bent & hell bound.
WHAT ACTIVITIES WERE YOU INVOLVED IN (CLUBS, SPORTS, ETC.) IN HS?
Wrestling.
WHO WAS YOUR FAVORITE TEACHER AND WHAT WAS YOUR FAVORITE CLASS SUBJECT?
I can't remember back that far.
WHAT ARE YOUR BEST MEMORIES OF HS?
Parties!
WHAT WAS YOUR MOST EMBARRASSING MOMENT IN HS?
I was too cool to get embarrassed!
WHAT IS SOMETHING YOU WANTED TO DO IN HS BUT NEVER DID?
I wanted to take first in the State wrestling tourny.