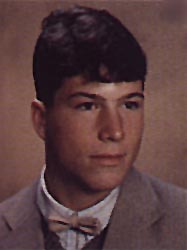 Are you this alumni? Please fill out this Alumni Form.
WHAT SONGS MAKE YOU THINK OF THE "GOOD OL' DAYS?"
Possibly a combination of some really bad Smiths tunes, early REM, Violent Femmes, INXS, Ramones, Bad Brains, Talking Heads...too many to list.
WHAT ACTIVITIES WERE YOU INVOLVED IN (CLUBS, SPORTS, ETC.) IN HS?
Dorky shenannegans, hiking, biking, art, work, photography, writing...I spent part of my time at the Career Center as a graphic arts dork.
WHO WAS YOUR FAVORITE TEACHER AND WHAT WAS YOUR FAVORITE CLASS SUBJECT?
I miss Mrs. Olson, Student Counselor...ironically she used to be a teacher of mine at Laurel Ridge Elementary back in the 70s in Fairfax, VA. She had the coolest haircut & smile.
WHAT ARE YOUR BEST MEMORIES OF HS?
I went to 4 different High Schools...in 4 different states/countries (9th grade, Bad Krueznach, Germany; 10th grade Carlisle, PA; 11th grade, Fairfax, VA; 12th grade, Anchorage, AK). I guess it would be moving/travelling...and learning to meet new people.
WHAT WAS YOUR MOST EMBARRASSING MOMENT IN HS?
Look at my Senior yearbook photo.....the bow tie?.....WHAT was I thinking?
WHAT IS SOMETHING YOU WANTED TO DO IN HS BUT NEVER DID?
Party like it was 1999.