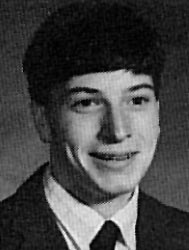 Are you this alumni? Please fill out this Alumni Form.
WHAT SONGS MAKE YOU THINK OF THE "GOOD OL' DAYS?"
Any song from "Top Gun".
WHAT ACTIVITIES WERE YOU INVOLVED IN (CLUBS, SPORTS, ETC.) IN HS?
Soccer, Latin Club.
WHO WAS YOUR FAVORITE TEACHER AND WHAT WAS YOUR FAVORITE CLASS SUBJECT?
No Information Provided.
WHAT ARE YOUR BEST MEMORIES OF HS?
Dressing up as a nerd for Halloween (the first two weeks of my tenure at Barlett) and most people not knowing it was a costume.
WHAT WAS YOUR MOST EMBARRASSING MOMENT IN HS?
Going to Sadie Hawkins Dance in a broken down Honda Civic, covered in frozen shaving cream and condoms.
WHAT IS SOMETHING YOU WANTED TO DO IN HS BUT NEVER DID?
No Information Provided.