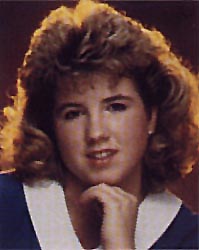 Are you this alumni? Please fill out this Alumni Form.
WHAT SONGS MAKE YOU THINK OF THE "GOOD OL' DAYS?"
Lucky Star by Madonna, but by far. . . Jack & Diane by John Cougar!!!!!
WHAT ACTIVITIES WERE YOU INVOLVED IN (CLUBS, SPORTS, ETC.) IN HS?
Basketball cheerleader. I wrote for the newspaper, too.
WHO WAS YOUR FAVORITE TEACHER AND WHAT WAS YOUR FAVORITE CLASS SUBJECT?
I loved Mrs. Arhens for speech. Mrs. Goll for English. Mr. Madden for US history & of course, Mr. McGowen for physical education.
WHAT ARE YOUR BEST MEMORIES OF HS?
I'll never forget meeting Reggie Johnson & Todd Coffman my Freshman year on the first day of school. We had Honor's English w/Mrs. Goll. They were sooo nice and we remained friends throughout our 4 years @ BHS. I will also always remember Steve Walton teaching me how to rap Run DMC & betting Steve Reid that the KC Royals would win the 1985 World series. He was a Cardinals fan. Plus, lots of fun times w/Anna Jose & Lynda Almasy! I have to say, after going to the 20 year reunion this past weekend, I am reminded of how blessed I am to have gone to school w/so many wonderful, kind people.
WHAT WAS YOUR MOST EMBARRASSING MOMENT IN HS?
It must have been so embarrassing I blocked it from my memory. . can't recall any.
WHAT IS SOMETHING YOU WANTED TO DO IN HS BUT NEVER DID?
Try out for a play/theatre.