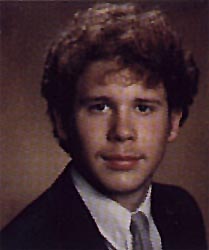 Are you this alumni? Please fill out this Alumni Form.
WHAT SONGS MAKE YOU THINK OF THE "GOOD OL' DAYS?"
"Should I stay or should I go" - The Clash.
WHAT ACTIVITIES WERE YOU INVOLVED IN (CLUBS, SPORTS, ETC.) IN HS?
Rifle Team/Club.
WHO WAS YOUR FAVORITE TEACHER AND WHAT WAS YOUR FAVORITE CLASS SUBJECT?
Coach Ashcraft - Riflery; Mrs. Owens - Individual (sleeping) Writing.
WHAT ARE YOUR BEST MEMORIES OF HS?
Coming in 2nd in the 1984 Mayor's 100 rifle match.
WHAT WAS YOUR MOST EMBARRASSING MOMENT IN HS?
No Information Provided.
WHAT IS SOMETHING YOU WANTED TO DO IN HS BUT NEVER DID?
No Information Provided.