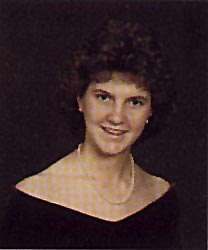 Are you this alumni? Please fill out this Alumni Form.
WHAT SONGS MAKE YOU THINK OF THE "GOOD OL' DAYS?"
The singers or groups that remind me of high school are Duran Duran, Journey, Madonna, Def Leppard, The Police, Run DMC, Prince, Michael Jackson, etc...
WHAT ACTIVITIES WERE YOU INVOLVED IN (CLUBS, SPORTS, ETC.) IN HS?
For three years, I was a varsity basketball cheerleader. During the summer, I played softball.
WHO WAS YOUR FAVORITE TEACHER AND WHAT WAS YOUR FAVORITE CLASS SUBJECT?
Some of my favorite teachers were Mr. Chambers, Senora Williams, Mrs. Stoddard, Mrs. Sinclair, and Mrs. Stafira. I also admired my cheerleading coaches, Mrs. Boots and Mrs. Robertson.
WHAT ARE YOUR BEST MEMORIES OF HS?
My best HS memories were cheering for and traveling with the basketball teams, especially the 1986 Dream Team, State Champs! I also enjoyed the many adventures with Meg, Christine, Stevie, and David.
WHAT WAS YOUR MOST EMBARRASSING MOMENT IN HS?
My most embarrassing moment was when Meg and I skipped school and entered East High during one of their passing times. As we tried to exit the building, we were caught by one of their security guards who threaened to call the police and sent us directly back to Bartlett. We reported to Mr. Hooten, who called the East High staff a bunch of "tight a**es" and sent us back to class smiling.
WHAT IS SOMETHING YOU WANTED TO DO IN HS BUT NEVER DID?
I pretty much did everything I wanted to in high school. However, I wish I would have met more people outside of the activities that I was involved with at school.