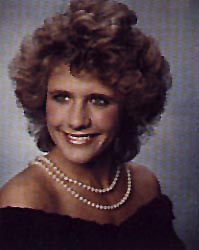 Are you this alumni? Please fill out this Alumni Form.
WHAT SONGS MAKE YOU THINK OF THE "GOOD OL' DAYS?"
Oh my! Anything Prince, Madonna, John "Cougar" before the Mellencamp, and that "Relax" song!
WHAT ACTIVITIES WERE YOU INVOLVED IN (CLUBS, SPORTS, ETC.) IN HS?
Skipping class with Michelle P. and Jenny B. mostly (hahaha).
WHO WAS YOUR FAVORITE TEACHER AND WHAT WAS YOUR FAVORITE CLASS SUBJECT?
Loved Mr. Wolfley and Mrs. MacDonald...actually managed to show up to those classes most of the time.
WHAT ARE YOUR BEST MEMORIES OF HS?
Getting stuck in Michelle's VW Rabbit the night before graduation, behind the school on the 4x4 trail (what the heck were we thinking girl?). Hanging with Jenny and DeNel, and my most favorite boys ever...Ken, Mark, and Tony.
WHAT WAS YOUR MOST EMBARRASSING MOMENT IN HS?
No Information Provided.
WHAT IS SOMETHING YOU WANTED TO DO IN HS BUT NEVER DID?
No Information Provided.