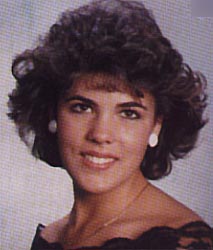 Are you this alumni? Please fill out this Alumni Form.
WHAT SONGS MAKE YOU THINK OF THE "GOOD OL' DAYS?"
Bryan Adams "Heaven," of course.
WHAT ACTIVITIES WERE YOU INVOLVED IN (CLUBS, SPORTS, ETC.) IN HS?
I was way too busy being a teenager to be in any activities.
WHO WAS YOUR FAVORITE TEACHER AND WHAT WAS YOUR FAVORITE CLASS SUBJECT?
Ms. Owens! She was very supportive and inspirational.
WHAT ARE YOUR BEST MEMORIES OF HS?
Having tons of friends who were ALWAYS there for me!
WHAT WAS YOUR MOST EMBARRASSING MOMENT IN HS?
When Tom wore those bright pink spandex pants ALL DAY! ARGH!
WHAT IS SOMETHING YOU WANTED TO DO IN HS BUT NEVER DID?
Play sports (volleyball, basketball).