Written in the 1985-86 BHS yearbook:

The 1985-86 Bartlett school year was truly unique. With a late start and long school days, this year was different than ever before.

The beginning of October brought registration and the reunion of some 1800 Bartlett students and teachers after more than five months of vacation. Some students returned with overflowing bank accounts due to the extended summer's savings while others returned as world travellers after having spent part of their summer abroad with the German Club, French Club, or Spanish Club. No matter how it was spent, the summer brought exciting changes for everyone, students and teachers alike.

Although most claimed they loved every minute of their vacation, there were some who just couldn't wait until October to hit the books. To please an overwhelming demand of eager students, parents and teachers planned and developed a "mini-Bartlett," known to most as September School. For four weeks students crowded into the Elmendorf Recreation Center to attend such classes as art appreciation, Latin, SAT preparation, algebra, and fencing. It was a fun learning experience for everyone involved.

On October 14th, some six weeks after other Anchorage schools had begun, the doors of Bartlett opened again. Students flocked into the "asbestos-free" halls in search of lockers and classes. Everyone was happy to be back again--at least for a little while. It didn't take long to realize that eight hour school days could get the better of anyone (and I mean ANYONE) real quick. Students began to dream of the day things would be back to normal. Everyday as the clock struck two, someone would say, "Just think, in 96 days, we'll be out of school at this time!"

As the year progressed and the end of January grew near, Bartlett once again became the bright, cheery place we all knew. Although high school is, without a doubt, one of the most important times in a person's life--a time that one develops lasting relationships and makes decisions that affect his entire life--there is a lighter, funner side to teenage life.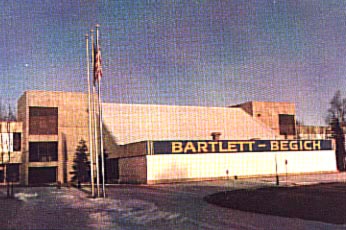 Bartlett High School
(Click to enlarge)